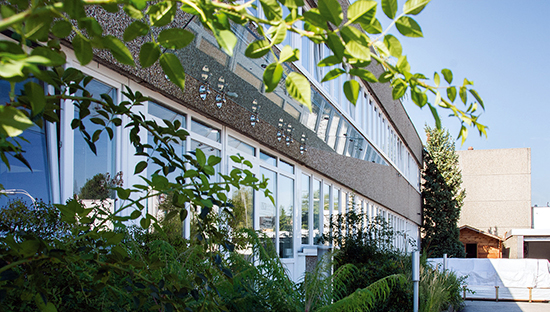 OUR PHILOSOPHY
Light ...
... is essential for life on earth as it is one of the key factors, affecting our natural rhythm, health and well-being. Since the invention of light we can't only influence these factors positively but also do activities at darkness.
... is the foundation of life for every living creature and plants on our planet. It stimulates our senses, feelings and emotions.
... is like fire, one of the most significant phenomena. Due to artificially produced light it is possible for human to live a convenient, secure life even after nightfall and in covered areas.
We weren't present, ...
when the electric light was invented. But since the founding of our company in 1981, we were always endeavoured to improve the usage of light in all sectors through innovative illuminates' and also to improve the lighting level for daily use through optimising luminaire technology.
Definition
Light is the visible range of electomagnetic radiation with wavelengths between 380 and 780 nanometres, whose reflection can be noticed by the human eye. Electromagnetic radiation beyond these limits with lower wavelength than violet (380 - 420nm) is called ultraviolet (UV) and with higher wavelength than red (650 - 750nm) is defined as infrared (IR).
These definitions as base and benchmark for all our activity, guarantee the quality of our cost-efficient lighting design up to the production of luminaires.
WHOLESALES AND PRODUCTION
Since the founding of LTV in 1981, we have evolved to one of europes leading wholesalers. Wie offer a vast array of products, most of them sold directly from stock.
Due to our passion, wich belongs all to the light, and the enormous know-how from long-term experience, we decided to expand our commercial range and established our own brand: ZEUS Lighting.
ZEUS Lighting ...
... is a protected trademark since 2005. The idea behind it was to provide standard and special lamps according to the customer's needs in low quantity or even as single pieces without any reduction of quality.
Our development and enginieering department constantly designs cost- and energy-efficient luminaires, in close collaboration with architects, artists and consumers.
The high quality standards of our products is always guaranteed because of the exclusive usage of premium components by lighting suppliers of renown.
The frequent use of our products in historic buildings as well as in modern buildings, in outdoor and indoor areas ensures our endeavours.